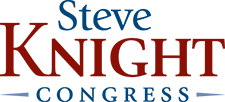 | | |
| --- | --- |
| FOR IMMEDIATE RELEASE | Contact: Steve Knight |
| March 7, 2016 | Phone: 661.347.6859 |
Congressman Steve Knight Endorsed by California Fraternal Order of Police
Knight Praised for His "Lifelong Commitment to Protecting the Public"
Antelope Valley, CA — Congressman Steve Knight has earned the endorsement of the California Fraternal Order of Police (CAFOP) in his campaign for re-election. Made up of professionals from local, state and federal law enforcement agencies throughout the state, the CAFOP exists to advocate for California's public safety community.
"From his time with the LAPD to the halls of Congress, Steve Knight has made a lifelong commitment to protecting the public and keeping our streets safe," CAFOP President Roger Mayberry stated. "Knight's longstanding career in law enforcement, stellar record in supporting our police officers, and steadfast commitment to serving his community undoubtedly makes him the best choice for Congress."
Citing his almost twenty years of experience as a member of the Los Angeles Police Department, Congressman Knight was appointed to the House Republican's Law Enforcement Task Force — where he played a critical role during a formal hearing last October to help facilitate better relationships between police officers and the communities they serve. As a Congressman, Knight has made it a priority to change the national conversation surrounding law enforcement from negative criticism to a more positive and constructive dialogue.
"The number one priority of government is to keep our citizens safe," stated Knight. "The job of a public safety officer is a difficult one, and I'd like to thank all of California's hardworking police officers for your service and your sacrifice."
Knight represents California's 25th Congressional District, which includes the Antelope, Santa Clarita and Simi Valleys. Knight serves as the Vice-Chair of the Subcommittee on Energy and is a member on the House Armed Services, Small Business, and Science Space and Technology committees. In his first year in Congress, Knight authored the Small Business Joint Venturing Act (H.R. 1390), which was signed into law by the President in late 2015. H.R. 1390 will give small businesses — which employ around half of the nation's workers — a better chance to compete for federal contracts.
Knight's tenure in Congress is but the latest in a lifetime of public service. After spending nearly 20 years as an officer with the LAPD, Knight was elected to the Palmdale City Council in 2005. Soon thereafter, Knight went on to serve in the State Legislature, focusing his efforts on reducing the tax burden on California's hardworking families and restoring the state's economic vitality during the Great Recession.
Steve lives in the Antelope Valley with his wife Lily and their two sons. For more information on Knight, visit SteveKnight.org.
###