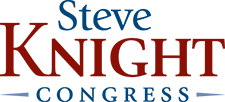 | | |
| --- | --- |
| FOR IMMEDIATE RELEASE | Contact: Steve Knight |
| March 28, 2016 | Phone: 661.347.6859 |
LA County Supervisor Antonovich Endorses Congressman Steve Knight for Re-Election
Antelope Valley, CA — Today Congressman Steve Knight announced that he has received an endorsement from Los Angeles County Supervisor Michael Antonovich in his bid for re-election.
Supervisor Antonovich has served on the LA County Board of Supervisors since 1980 and represents the Fifth District, which encompasses over 2,000 square miles and over 2,000,000 residents. Prior to being elected to the Board of Supervisors, Antonovich was a government/history teacher who went on to serve on the Los Angeles Community College Board of Trustees and in the California State Assembly. Over the course of his distinguished tenure on the Board, Supervisor Antonovich has been heralded for championing public safety, expanding programs for foster youth, and expanding LA County's trails and open space.
"Steve Knight has provided leadership on aerospace issues, CEMEX and with the recent Porter Ranch Southern Cal Gas leak crisis," stated Antonovich. "As he continues to fight for a strong National Defense, our veterans and for the safety and improvement of our communities, Steve will remain an effective leader for us in D.C."
When asked about the endorsement, Knight stated: "Working toward a resolution to the Porter Ranch crisis was a collaborative effort that required the help and unfaltering commitment of leaders like Supervisor Antonovich. I thank him for his support, kind words and enduring friendship. Lily and I wish him the best as he retires from the Board of Supervisors at the end of this year. His dedication to LA County spans decades, and we owe him tremendous gratitude for years of service to our communities."
After spending nearly 20 years as an officer with the Los Angeles Police Department, Knight was elected to the Palmdale City Council in 2005. Soon thereafter, Knight went on to represent the Antelope Valley in the State Legislature, focusing his efforts on reducing the tax burden on California's hardworking families and restoring the state's economic vitality during the Great Recession.
Knight represents the residents of California's 25th Congressional District, which includes the Antelope, Santa Clarita and Simi Valleys. He is Vice-Chair of the Subcommittee on Energy and is a member on the House Armed Services, Small Business, and Science Space and Technology committees. In his first year in Congress, Knight authored the Small Business Joint Venturing Act (H.R. 1390), which was signed into law by the President in late 2015. H.R. 1390 will give small businesses, which employ around half of the nation's workers, a better chance to compete for federal contracts.
From the Palmdale City Council to Congress, Steve has been a fierce advocate for our nation's veterans and at the forefront of working to increase the number and presence of aerospace companies within Southern California.
Steve lives in the Antelope Valley with his wife Lily and two sons. For more information on Steve Knight visit SteveKnight.org.
###