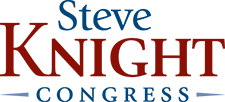 | | |
| --- | --- |
| FOR IMMEDIATE RELEASE | Contact: Steve Knight |
| March 25, 2016 | Phone: 661.347.6859 |
Los Angeles Police Protective League Endorses Congressman Steve Knight for Reelection
Antelope Valley, CA — Today Congressman and veteran LAPD officer Steve Knight announced that he has received the endorsement of the Los Angeles Police Protective League (LAPPL) in his campaign for reelection.
Since 1923, the LAPPL has served as the voice for thousands of police officers in the Los Angeles Police Department. As one of the state's oldest and most prestigious law enforcement associations, the LAPPL has been on the front line of the effort to protect uniformed officers and support the families of fallen officers.
"As a police officer, Steve Knight defended families and put criminals behind bars for nearly two decades. As a Congressman, he has always remained available and actually listened to local law enforcement," stated LAPPL President Craig Lally. "Steve has a lifetime of service to the community unmatched by any other candidate it is clear that he is absolutely committed to public safety. The LAPPL is proud to support Representative Knight."
Steve Knight enlisted in the U.S. Army shortly after graduating high school, where he was stationed overseas. Upon returning home, Knight continued his duties in uniform, joining the Los Angeles Police Department and serving honorably for 18 years.
"Keeping our streets and homes safe has always been my top priority," Knight responded. "The LAPPL has an honorable record of supporting the officers who risk their lives to keep us safe, and I'm honored to have received their endorsement."
A leading voice for fiscal accountability and public safety, Knight has represented hard-working families and residents as a member of the Palmdale City Council, the California State Assembly, and the State Senate. Since 2014, Knight has taken the fight to Washington, D.C., working daily to defend residents' freedoms and create job opportunities across the region.
Steve and Lily Knight live in Palmdale with their two sons.
To learn more about Steve Knight, visit: www.SteveKnight.org
###