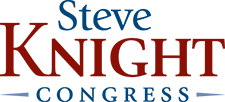 | | |
| --- | --- |
| FOR IMMEDIATE RELEASE | Contact: Steve Knight |
| March 14, 2016 | Phone: 661.347.6859 |
Palmdale Mayor Ledford Endorses Congressman Steve Knight for Re-Election
Ledford Has "Full Faith and Confidence" in Knight's Leadership
Antelope Valley, CA — Today Representative Steve Knight announced that he has received the endorsement of Palmdale Mayor Jim Ledford in his Congressional re-election campaign. Ledford's endorsement is but the latest in a growing number of local leaders who have expressed their support of Knight and his work in Washington D.C.
"Steve Knight has dedicated his life and his career to the people of this region," stated Ledford, who has served as Mayor of Palmdale since 1992. "Steve has worked diligently to help our local small business owners and to bring defense industry jobs to our state. I have full faith and confidence that Congressman Knight will continue to be a fierce advocate for our community."
After spending nearly 20 years as an officer with the Los Angeles Police Department, Knight was elected to the Palmdale City Council in 2005. Soon thereafter, Knight went on to represent the Antelope Valley in the State Legislature, focusing his efforts on reducing the tax burden on California's hardworking families and restoring the state's economic vitality during the Great Recession.
Knight represents the residents of California's 25th Congressional District, which includes the Antelope, Santa Clarita and Simi Valleys. He is Vice-Chair of the Subcommittee on Energy and is a member on the House Armed Services, Small Business, and Science Space and Technology committees. In his first year in Congress, Knight authored the Small Business Joint Venturing Act (H.R. 1390), which was signed into law by the President in late 2015. H.R. 1390 will give small businesses, which employ around half of the nation's workers, a better chance to compete for federal contracts.
From the Palmdale City Council to Congress, Steve has been a fierce advocate for fiscal responsibility and at the forefront of working to increase the number and presence of aerospace companies in Southern California.
Steve lives in the Antelope Valley with his wife Lily and their two sons. For more information on Steve Knight visit SteveKnight.org.
###