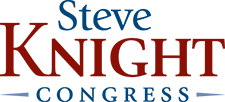 | | |
| --- | --- |
| FOR IMMEDIATE RELEASE | Contact: Steve Knight |
| April 6, 2016 | Phone: 661.347.6859 |
Simi Valley Mayor Bob Huber Endorses Congressman Steve Knight
Antelope Valley, CA — Today Representative Steve Knight announced that he has received the endorsement of Simi Valley Mayor Bob Huber.
"Congressman Knight is experienced, he's committed to our community, and he's able to deliver results," stated Huber. "Steve's background in local and state government has equipped him to effectively advocate for our needs in Washington. His first year in D.C. proved a success, and I have no doubt in my mind that he will continue to serve us well as our Congressman."
A California native, Huber is a long-time practicing attorney in Simi Valley and has served as Superior Court Judge Pro Tem since 1981. Huber was first elected to the City Council in 1980, and was later elected as the Mayor of Simi Valley in 2010.
"One of the rewarding aspects of serving in Congress is the chance to work with respected leaders like Mayor Huber who gets things done," stated Knight. "I thank Bob for his support, and look forward to continuing to work with the residents of Simi Valley to ensure they have a seat at the table in D.C."
Knight represents the residents of California's 25th Congressional District, which includes the Antelope, Santa Clarita and Simi Valleys. Knight has spent much of his first term in Congress focusing on bringing federal drought relief to California, as well as increasing job opportunities and growing the economy. To this end, Knight authored the Small Business Joint Venturing Act (H.R. 1390), which was signed into law by the President in late 2015. H.R. 1390 will give small businesses, which employ around half of the nation's workers, a better chance to compete for federal contracts.
In addition to his focus on jobs and the economy, Congressman Knight has directed his attention toward bringing resolution to the Aliso Canyon gas leak crisis and is seeking federal action to ensure that nothing like what happened in Porter Ranch can ever occur again.
From the Palmdale City Council to Congress, Steve has been a fierce advocate for fiscal responsibility and at the forefront of working to increase the number and presence of aerospace companies in California.
Steve lives in the Antelope Valley with his wife Lily and two sons. For more information on Steve Knight visit SteveKnight.org.
###