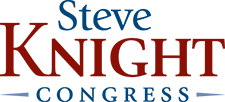 | | |
| --- | --- |
| FOR IMMEDIATE RELEASE | Contact: Steve Knight |
| September 19, 2016 | Phone: 661.347.6859 |
Simi Valley Police Officers Association endorses Steve Knight for Congress
Antelope Valley, CA — Former LAPD police officer, Congressman Steve Knight received the endorsement of the Simi Valley Police Officers Association (SVPOA).
"Steve Knight's service with the Los Angeles Police Department and U.S. Army instilled in him a deep sense of integrity, honor and leadership," stated SVPOA President, Officer Tim Wedemeyer. "His continued commitment to national security and his unwavering dedication to those in uniform makes him the best person for the job."
Born and raised in Southern California, Steve Knight developed a passion for service at a young age. He joined the United States Army soon after graduating high school. After completing his service, Knight joined the LAPD and worked as an officer for nearly 20 years.
Before he was elected to Congress, Steve served as a Palmdale City Council Member and California State Assemblyman and Senator. He currently represents California's 25th Congressional District and serves as the Vice-Chair of the Subcommittee on Energy and is a member on the House Armed Services, Small Business, and Science Space and Technology committees.
Recently, Steve Knight authored the No Hero Left Untreated Act, which if passed, will provide support to veterans suffering from PTS and traumatic brain injury. In addition to his passion for national security, Knight has always been a leader on economic growth and job creation. Recently, the President signed the Small Business Joint Venturing Act (H.R. 1390), Knight's bill that will provide small businesses with an opportunity to compete for federal contracts.
Steve lives in the Antelope Valley with his wife Lily and two sons.
To learn more about Steve Knight, visit: www.SteveKnight.org
###