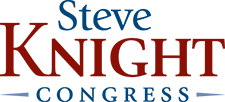 | | |
| --- | --- |
| FOR IMMEDIATE RELEASE | Contact: Katie Varner |
| October 7, 2016 | Phone: 661.347.6859 |
Knight demonstrates knowledge of the issues and ability to get the job done
Antelope Valley, CA— The third debate between Congressman Steve Knight and challenger, Bryan Caforio took place today. The debate, located in Valencia was hosted by the Santa Clarita Valley Chamber of Commerce and the Southland Regional Association of Realtors, and covered a number of issues facing local businesses and the residents of a district that encompasses parts of the Antelope Valley, Santa Clarita, and Simi Valley.
Once again, Knight demonstrated a clear understanding of the issues facing a community in which he was raised and has represented at the local, state and now federal levels.
While discussing local issues such as water storage and supply, national security, and job creation, Knight highlighted his accomplishments over the last two years – noting that in just eight months, he worked with the City of Santa Clarita to convince the federal Bureau of Land Management to rescind the contracts Cemex held on land in the Soledad corridor, something that others had been attempting for decades.
In addition, Knight has passed the Small Business Joint Venturing Act to help small businesses compete for federal contracts and create local jobs, and a pipeline safety bill in to prevent Porter Ranch-style gas leaks. Earlier this year he authored the No Hero Left Untreated Act, which would help veterans struggling from PTS and other traumatic brain injuries.
Knight's successes over the past two years draws a stark contrast with his challenger, Bryan Caforio, who is a Beverly Hills trial attorney that moved to the district less than one year ago after being recruited to run for Congress. When asked about the issues facing the region, Caforio continues to lack the kind of knowledge residents want to see from someone they want fighting for them in Washington.
Steve Knight is a U.S. Army veteran and former officer with the Los Angeles Police Department. He has served the region as a Palmdale City Council member and member of both the California State Assembly and Senate. Throughout his career, Knight has been an advocate for lower taxes on the middle class and job creation, something he continues to work on as a member of Congress.
Steve and his wife, Lily, live in Antelope Valley with their two sons, Christopher and Michael.
To learn more about Steve visit www.SteveKnight.org
###